---
Our Company QHSE policy is aimed to improve the management and decrease the risks associated with health, safety and the environment. We strive to prevent any work-related injuries or health impact to our employees. Our achievements include both strict and comprehensive regulations and guidelines, which are based on a series of well-specified strategic objectives.
We are committed to the proactive integration of QHSE objectives into our management system at all levels, actively reinforced by reward programs that recognize outstanding QHSE performance demonstrated by our employees and sub contractors.
This Policy shall be regularly reviewed to ensure ongoing suitability. The commitments listed are in addition to our basic obligation to comply with JSC MABROCONa standards, as well as all applicable laws and regulations where we operate. This is critical to our business success because it allows us to systematically minimize all losses and adds value for all our stakeholders.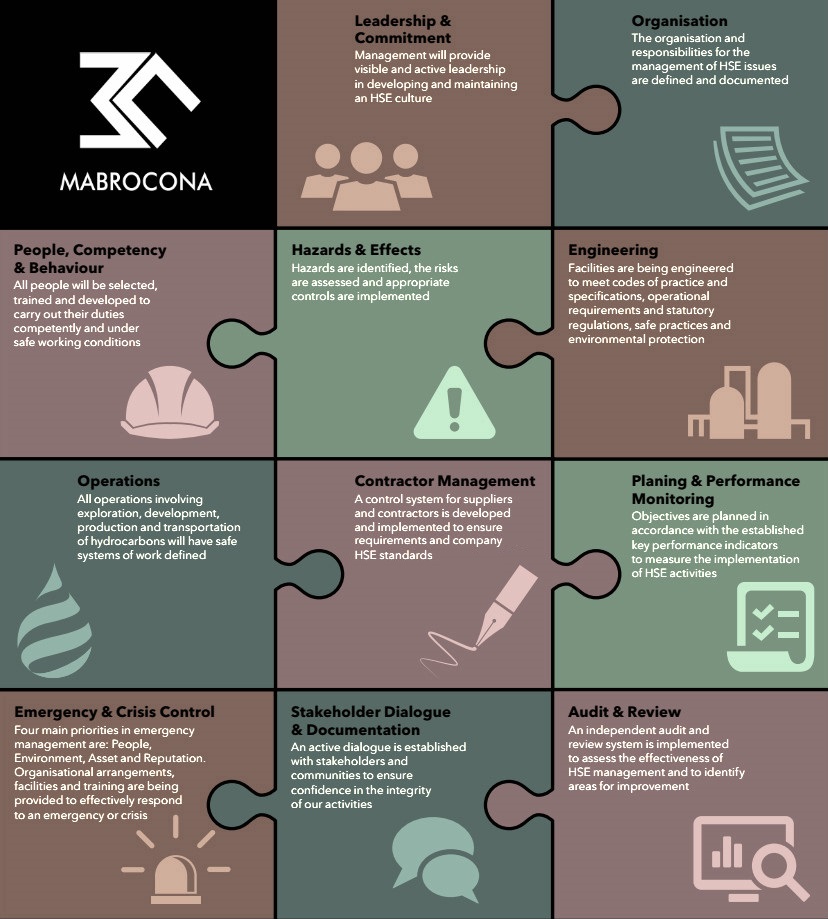 QHSE Statements
JSC MABROCONA requires the active commitment to, and support of QHSE from all employees. In addition, line management has a leadership role in the communication and implementation of, and ensuring compliance with, QHSE policies and standards. We are committed to:
Protect, and strive for improvement of, the health, safety and security of our people at all times;
Eliminate Quality non-conformance and HSE accidents;
Provide a framework for setting QHSE goals and performance objectives and the resources needed to successfully achieve them;
Meet specified customer requirements and ensure continual customer satisfaction;
Monitor, evaluate and continually improve our QHSE performance through the definition of operational standards, training, assessments and audits;
Be fully prepared to respond to any QHSE emergency;
Apply our technical skills to all HSE aspects in the design and engineering of our services and products;
Minimize our impact on the environment through pollution prevention and control of emissions, the efficient use of natural resources and the reduction and recycling of waste;
Educate our employees, customers, contractors, and business partners on the safe and environmentally responsible use of our services and products, and how their actions can influence QHSE performance;
Communicate openly with interested parties and ensure understanding of our QHSE policy, programs and performance;
Be knowledgeable of State and Local regulations for understanding of our legal obligations and other requirements.