---
A BRIEF OVERVIEW
Our motto is in time with business. Although our company is based in Lithuania, we are always there to serve our customers around the world.
The Company has a solid reputation and 17 years of experience in the maritime & offshore sectors. We are acting as:
Ship repair specialists;
Ship builders;
Human resource providers;
Technical managers;
Ship owners;
Condition surveyors.
Most noteworthy – we have established strong relationship and contracts with a variety of large companies worldwide. Our work experience covers European, African and Asian markets. The geography of our current projects varies from Sweden, Germany, Norway, Netherlands, Latvia, Lithuania, Russia Denmark to Nigeria and Ghana.
MABROCONA owns and manages various floating and survey equipment as well as a multipurpose work boat MERLIN mainly to support the dredging and port development industry.
The scope of our services cover such industries as shiprepair, shipbuilding, industrial machinery repair, dredging & marine construction, underwater works, human resources, surveys, metal constructions, ship insurance, ship agency and other.
A GLIMPSE OF HISTORY
The company has been established by Mr. Willem Dalmulder (R.I.P) in late 2000 as a family owned business, therefore the main focus was on long-lasting relationships with clients and continuity of company services. Other operational names of the Company included D.T.S (Dalmulder Transportation Services), LEONDA and in 2009 were all submerged under the name of MABROCONA (Acronym of Marine Brokerage & Consultancy). Sea transportation were the initial main activity of the company in the beginning, however the variety of the services has been quickly broadened with focus on shiprepair, shipbuilding and marine construction.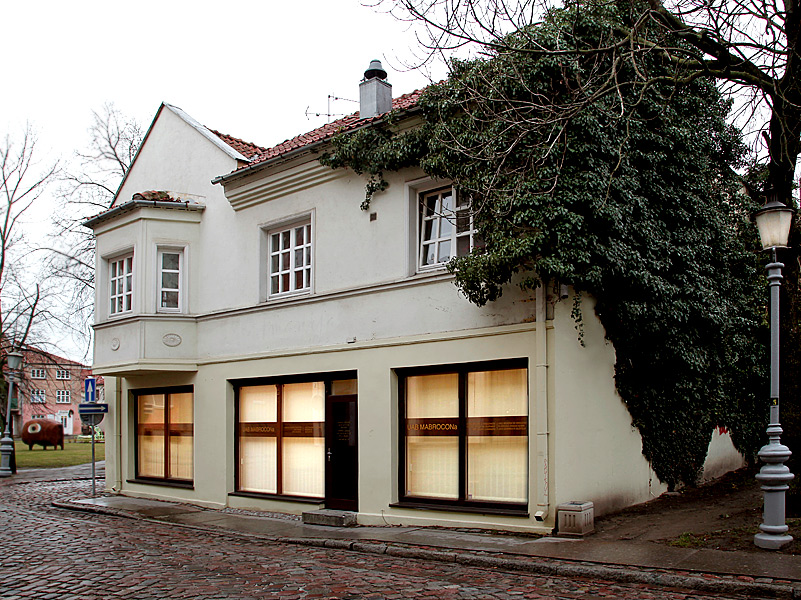 Year 2013 was both hard and challenging for the company. It also saw the change of company CEO. Mr. Denis Bronstein took over the wheel and began the process of diversification of industries the Company has been involved into. While the main company scope continued to be shiprepair & shipbuilding sectors, other industries like H&R, Metal constructions, Surveys, Ship Agency have been emerged.
Moreover, we have also became a part of Netherlands based NNAM B.V. (As NNAM Baltic UAB), involved in insuring Marine and Non-Marine risks.
As per our motto – in time with business – we see ourselves as an innovative company that evolves together with the fast-changing business environment, however always respecting to our roots, partners and beliefs.
During the last few years our company has grown almost twice – we are counting up to 140 employees, who work on important projects in Lithuania, Latvia, Estonia, Belgium, Sweden, Germany, Cyprus, Ghana and other countries.
OUR PARTNERS
Our Company is well-known for doing business responsibly. We are proud to establish friendly and work-oriented relationship with Partners worldwide. Though the Company evolves, the focus still remains on gathering competent and loyal partners, customers, friends, nonprofit organisations & businesses together along with us in our journey.
Every partnership is important and valuable, hence we are happy to depend on our partners and together achieve our dreams and goals. MABROCONA is proud to do business with:
Gerenal Electric, Aarsleff, Boskalis, Dredging International, Strabag, Van Oord, BLRT Grupp, Tallink, Axess AS, Klaipedos Laivų remontas, Baltnautic, Wilson Ship Management AS, Hanzevast, DAMEN Shipyard, Nitron Group, GriGeo and other valuable partners.

MABROCONA / 2017
As of 2017 the passion, the values and the initial mission are still there. Our staff has enormously grown up to 140 valued & experienced employees. Solid experience in both onshore and offshore operations is used for numerous projects on worldwide markets. We are currently involved in current industries:
Shiprepair;
Shipbuilding;
Ship Agency;
Chartering;
Dredging & marine construction;
Underwater works;
Human resources;
Surveys;
Metal constructions;
P&I, H&M, Insurance
Other
And also specialise in multicat vessels and own/operate m/v MERLIN available for charter worldwide.
Our company continuously invests in strong relationship with clients and partners, maintenance of the fleet and training of personnel. We strongly believe that this is the key for our success story. As of 2017 have also became a part of Association of Lithuania Shipbuilders and Repairers (LLSRA) and Lithuanian Defence and Security Industry Association (LGSPA).
<! [arve url="https://www.youtube.com/watch?v=zCHwAqTSFA8" align="center" /] -->
---